Grilled Beef & Veggie Pho
Posted by OXO Australia on 2nd Sep 2021
Grilled Beef
& Veggie Pho
Nothing beats the fragrance
of pho. This version is both
delicious and nourishing with the
extra veggies used as the
noodles. It's all about the
broth so buy a good
quality fresh one.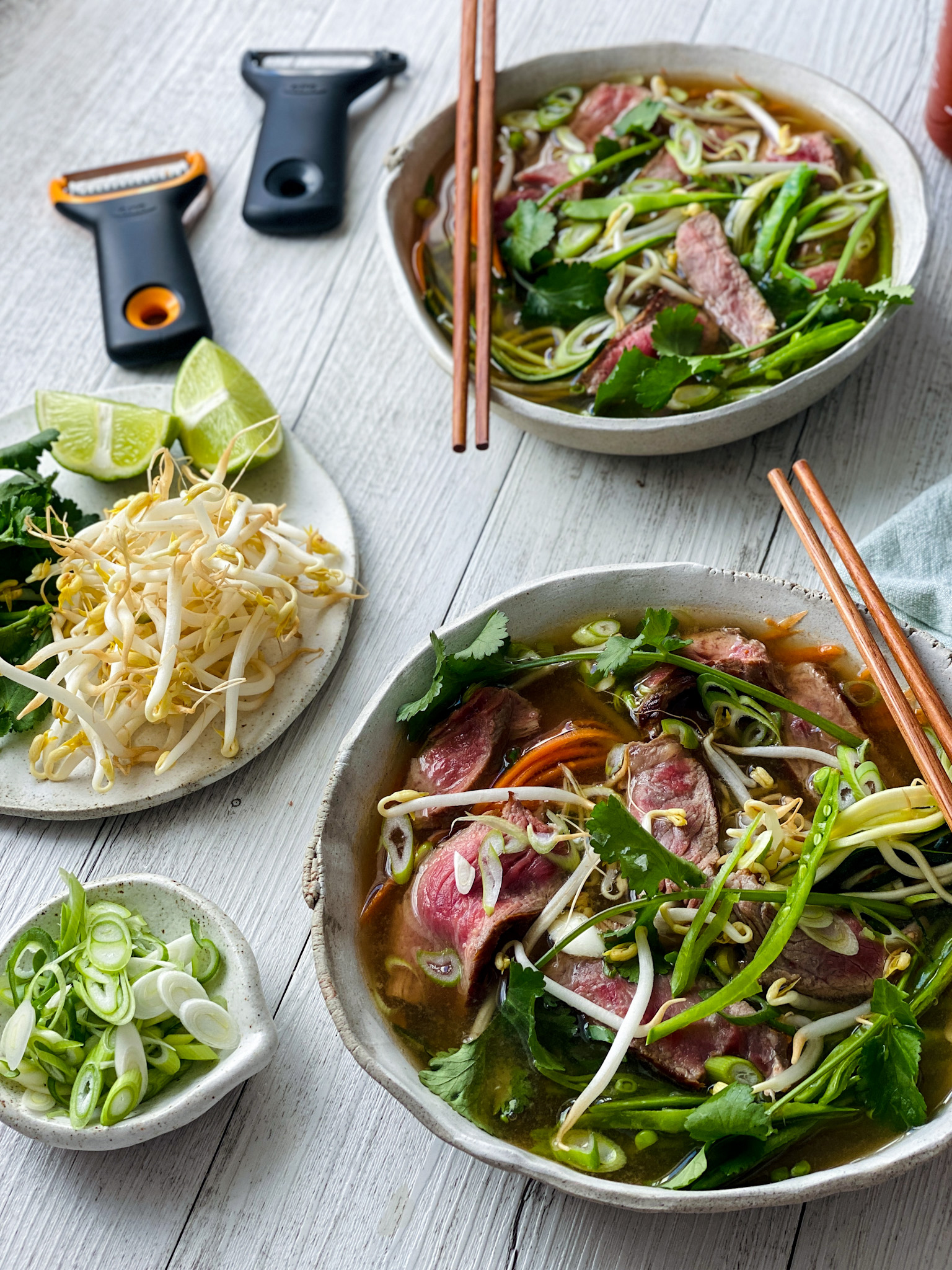 Grilled Beef & Veggie Pho
Ingredients
1 tbsp whole coriander seeds
2 star anise
2 cinnamon quills
1 thumb size piece ginger, sliced
½ stalk lemongrass, bruised and split
800ml beef broth
1 tbsp palm sugar
1 tbsp fish sauce
1 large zucchini
1 large carrot
8 snow peas, trimmed
1 250g sirloin
Flake salt
2 tbsp olive oil
1 cup bean sprouts
2 shallots, finely sliced
6 sprigs coriander
1 lime
Chili sauce to serve
Instructions
Place the coriander seed, star anise and cinnamon quills into a small skillet and place over a medium high heat for 3 minutes, tossing regularly then add them to a pot with the broth, ginger, lemongrass, palm sugar and fish sauce.
Place this over medium heat to simmer and infuse for 20 minutes then strain and keep hot over a low heat, covered with a lid.
Meanwhile, Preheat a skillet over a high heat, season the beef with salt and then add the olive oil and beef to the pan, searing for approx. 2 minutes each side to caramelise then transfer to a plate.
Peel the carrot and use the julienne peeler to shave it into strips then use the same peeler to shave the zucchini into strips. Finely slice the snow peas into thin matchsticks.
Evenly divide the prepared zucchini, carrot, snow peas and beans sprouts between two bowls.
Thinly slice the seared beef against the grain and lay over the veggies then scatter some shallots.
Pour the hot broth over the bowls and finish with the coriander more shallots and a squeeze of lime.
Serve with chili sauce if desired.
Check out more delicious and inspiring recipes for desserts, midweek dinners and more here