Veggie Lasagne
Posted by OXO Australia on 5th Oct 2021
Veggie lasagne
with mushroom
and lentil
bolognese
While there are a couple of steps
involved in this veggie packed
lasagne, it is well worth the effort.
This is the ultimate comfort food and
so nourishing.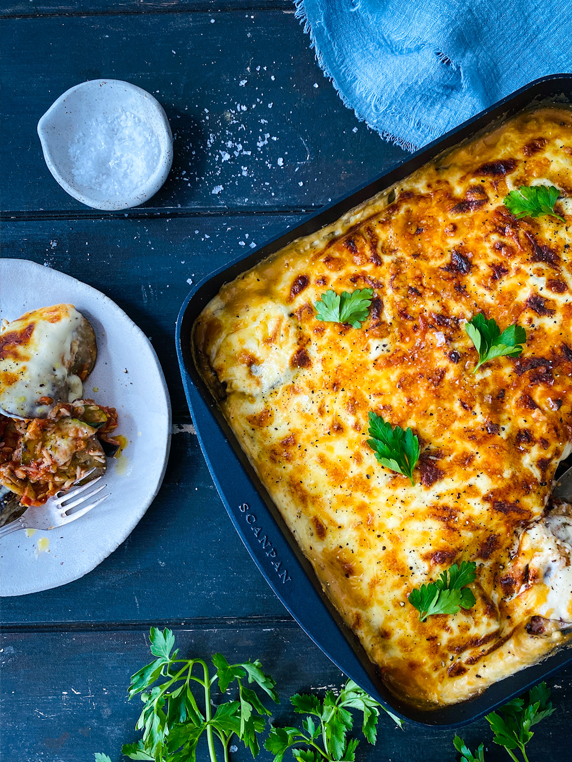 Layers of veggies replace the pasta sheets and rich lentil and mushroom bolognese replace the mince. The rice scattered in between the layers soaks up all the juices from the veggies and cooks to create another delicious element.

Make ahead of time and simply reheat when needed, so great to make on the weekend for the week ahead.
Veggie lasagne with mushroom and lentil bolognese
Ingredients
5 tbsp olive oil
1 brown onion, finely diced
2 clove garlic, finely chopped
Salt, fresh ground black pepper
10 button mushrooms, finely chopped
2 tbsp tomato paste
1 cup dried red lentils
2 400g tin crushed tomato
400ml vegetable stock or water


50g unsalted butter
¼ cup plain flour
700ml milk


2 medium zucchinis, thinly sliced on a slight angle into ovals
2 large eggplant, cut into 1cm slices
½ cup long grain white rice
1 cup grated mozzarella
Instructions
Heat 2 tbsp of the olive oil in a large frying pan over a medium/high heat and add the onion, garlic a good pinch of salt and pepper.
Cook for 5 minutes until soft then add the mushrooms, tomato paste and cook for another 2 minutes.
Add the tinned tomatoes, stock, simmer for 20 minutes, stirring occasionally, until the lentils are softened and the ragu is thick then set aside.
For the bechamel sauce, heat the milk in a small saucepan until just simmering then turn off and keep warm.
Melt the butter in another medium saucepan over a medium heat and stir through the flour, cooking out for 1 minute then slowly whisk in the hot milk, making sure it is mixed in smoothly before adding the next bit of milk. Cook this over a low heat, whisking occasionally for 5 minutes then adjust the seasoning with salt and pepper.
Preheat an oven to 210C.
Spoon some Bolognese into the bottom of a baking dish, scatter 1/3 of the rice over, then layer over half the sliced eggplant evenly, season with salt and pepper, a drizzle of olive oil, seasoning then add a little more Bolognese spread over and another 1/3 of rice, followed by all the sliced zucchini, season with salt and pepper, a drizzle of olive oil then the remaining Bolognese, rice, the remaining eggplant, a drizzle of oil and seasoning.
Cover this with baking paper, pressing it onto the surface of the eggplant and bake for 40 minutes before removing the baking paper, pouring over the bechamel sauce, cheese then return to the oven to cook in the oven for 15 minutes to get nice and caramelised.
Check out more delicious and inspiring recipes for desserts, midweek dinners and more here